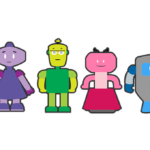 Do you know if you might want to use Chatbots for your business?
3 Ways to Unlock the Power of Chatbots to Boost Your Business
Do your customers open your emails?
Are you or your employees spending time on the phone answering basic questions about your business?
A Facebook Messenger chatbot may be your solution! Take this opportunity to explore whether you might use chatbots for your business.
Chatbots handle automated conversations with your subscribers on their mobile devices. A Facebook Messenger chatbot is a great way to communicate with your prospects, customers, and employees because when Messenger chimes, people look.
According to Chatbots Magazine, "Mobile messengers such as Facebook Messenger, WhatsApp, WeChat and others have become the preferred means of communication on mobile devices. WhatsApp has reached more than a billion monthly active users, Facebook Messenger — 900 million, WeChat — almost 700 million (source: statista.com)."
If a prospect has a question about a product, they can talk with the chatbot, which will not only answer the question, but can also move the customer along the path to a sale. If the question can't be answered by the chatbot, then an employee can be notified to jump in and live chat with your customer.
Like email mailing lists, people subscribe to your chatbot. Facebook has strict rules on engagement with customers to avoid spamming. As long as you're providing your subscribers with value, Facebook is happy for you to continue to message your subscribers.
Chatbots can be used in a variety of ways, enhancing your prospect or customer service experience. How could your business use chatbots?
Qualify Leads
Real estate agents and insurance agents are beginning to use this technology to qualify leads as well as communicate new listings or products available. A chatbot asks the basic questions you need to know in order to help this prospect, such as "How many bedrooms are you looking for?" or "Are you looking for a cut and color or just a haircut?" Then store the answers in a database, along with the prospect's contact information for future interactions. This technology can also add appointments to your calendar automatically. Or, have the chatbot send you a message requesting that you hop in the chat yourself. If you don't want to be left behind, you should explore whether you would could use chatbots for your business.
Provide Product Information
For small businesses with specific product lines, chatbots can provide your customers with the common answers about your products. Some restaurateurs are using chatbots to advertise their daily menus and specials. Local merchants and life coaches send their subscribers coupons and discount codes. Chatbots are a great way to keep your prospects and customers informed of your product offerings and special deals.
Take an Order
The most sophisticated chatbots can take orders and process payments. Check out the Dominos chatbot for the ability to order your pizza and pay – right from your phone. Integrate your chatbot with your order fulfillment system and see your volume increase.
These are just a few of the ways that businesses are using chatbots. How could your business extend its reach with chatbots and Messenger?
Take This Class to Explore Whether You Might Use Chatbots for Your Business
Colorado Free University offers What is a Chatbot? Learn How It Can Supercharge Your Business. Instructor, Deb Schaffer, PMP, is a certified project management professional and a Six Sigma black belt. For ten years she taught technical software classes for software companies and now helps companies implement software and writes white papers, case studies, and other marketing content.

---
About Colorado Free University
Colorado Free University is an adult continuing education center in Denver. We offer a wide menu of enrichment and skill-based classes for anyone over the age of 17. CFU is a relaxed learning environment and there are no entrance requirements, grades, or tests. Classes are taught by independent contractors who are experts in their fields and are motivated to give back to the community.
[Find out how to register and see CFU policies here]
[Learn about teaching at CFU here]