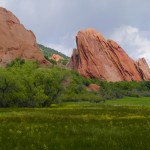 The Walking Tour in Roxboro Park has been cancelled.
Called "From the Big Bang to the Rocky Mountains: A Walk Through Time", this tour explores the spectacular geologic formations seen along the Fountain Valley trail. These formations tell the story all the way from the big bang to the formation of the Rockies, to the extinction of the dinosaurs. Now how neat is that?!
Nazli Nomanbhoy, Ph.D., is a seismologist who has taught geology at Colorado State University.
Sign up today and enjoy this fascinating fall tour.