We're all itching to get back to our travels! We all want to know how to travel during Covid-19. Where can we go, and how do we stay safe? AND can we do it for free?!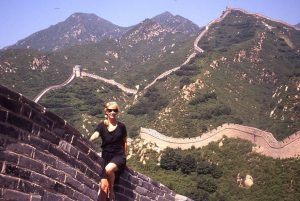 Who is Gina Henry?
Gina Henry is a professional full-time traveler. All her life she wanted to travel, see the world, explore cultures, meet people and LEARN. She gave up a successful – and stressful – advertising career in New York City to pursue this travel passion. She knows all the travel hacks and has been taking FREE vacations for over twenty-five years and has traveled to 93 countries and all 50 states. She created company, Go Global, Inc., to help other people find affordable ways to support their travel habits as well. She teaches her programs in over 90 cities nationwide. She teaches in 90 cities and is the author of many travel books and audios.
How to Travel Free & Safely During These Unparalleled Times
Professional world traveler Gina Henry shows you how she has prepared for the new "travel normal," including important tips on safety, trip insurance, what to do if you become sick, and other strategies. If you like the idea of making additional income to support your travel dream, this class is for you. Discover over 200 ways to travel free, including volunteering, fun work-vacations, paid travel, teaching English, and remote employment opportunities. Earn free airline tickets, hotel nights, tours, and more. Having lived the travel life for 30 years, Gina Henry knows all the tricks. She has traveled to 98 countries and all 50 states.
7/17/2021–How to Travel Free & Safely
Get Paid to Teach English: In the U.S. & Overseas
Learn how you can develop a career in teaching English or simply find ways to fund your travel. If you speak English, you can teach conversational English! And, you can make money from home by teaching English online.
7/24–Get Paid to Teach English: In the U.S. & Overseas
Work Remotely and Become a Digital Nomad:  Create Your Money-Making Travel Lifestyle and Work from Anywhere
Working remotely is now the thing. Why not add travel into the mix? Join thousands of individuals who are taking their work with them and hitting the road! You can make your travels sustainable by earning a living as you travel. Learn how to take your current job on the road and also find out about other jobs that support this lifestyle. Get the "how to" of living on the road from someone with long-term, real-world experience. This may be your best bet for how to travel during Covid-19.
8/7/2021–Work Remotely & Become a Digital Nomad: Create Your Money-Making Travel Lifestyle & Work Anywhere.
The Secrets of Travel hacking
You can earn hundreds of thousands of airline frequent flyer miles and hotel reward points without ever stepping foot on a plane or paying for a hotel and then redeem them for high-value trips. Flights and hotels are typically the most expensive part of your vacation budget.
7/31/2021–The Secrets of Travel Hacking: Free Air, Hotels, & Cash Back
Colorado Free University has been offering quality affordable classes to the Denver metro area since 1987. Now we offer many of our terrific interactive class online so you can learn from anywhere. Learn about CFU's registration policies here.