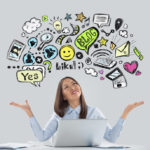 Colorado Free University is where you can get social media training from instructors who are in the field themselves.
We recognize that many of the folks who take classes at CFU are small business owners or aspiring entrepreneurs. We have put together a great selection of social media training and online marketing. These days, you can't do business without learning at least a little about using social media and other online marketing tools for your business.
See all of the required/elective classes here, click to get dates and to register for our social media training classes.
Digital Marketing Overview (#1935)
The Keys to Driving Business Through the Web (#1989)
Inbound Marketing for Small Business (#3731R)
Successful Email Marketing: Get Your Emails Read! (#3210)
Facebook Business Pages: An Online Marketing Tool (#3733)
Google Analytics 101 (#1990)
Search Engine Optimization Basics: Increase Your Google Ranking (#1988)
Improve Your Rank: SEO Success Factors (#3472)
Getting Started with WordPress: Content Management (#3475)
Moving Ahead with WordPress: Under the Hood (#3476)
Blogging Basics: Get Going with Your Blog (#3418)
Blogging for Success: Take Your Blog to the Next Level (#3680)
Twitter for Business: Find and Engage Your Audience (#3732)
Use LinkedIn to Grow Your Business (#3350)
Use YouTube for Effective Marketing (#3725)
Create Your Own Podcast: Hands-on Workshop (#3736)
How to Make a Podcast for Fun or Profit: Everything You Need to Know (#3730)
Social Media ROI (#3630)
Digital Marketing Strategy (#1928)
If you're not sure how to best put together the classes you need, check out our Online Marketing and Social Media certification training program. It organizes our classes into a curriculum to help you cover all the bases. You can just take the courses you want, or go all the way to earn a certificate of completion in digital marketing. Add on a practicum experience to earn the full Social Media Manager Certificate.
TESTIMONIAL FOR CFU'S SOCIAL MEDIA TRAINING
How can you dip your toes into the vast ocean called Digital Marketing? Can you quickly take several courses in Social Media to see if it's something you want to integrate into your business skill set? Those were questions I posed for which CFU had the perfect answer. I dove into CFU's "Digital Marketing and Social Media" certification program, and loved it. I finished the classes in three months and moved on to the practicum, where I worked with a real company that needed help with its marketing. What a great experience! I was blown away by the quality of the instructors. These were not ivory tower academics. These were people who have their own successful, entrepreneurial businesses, teaching us how to use the latest tech to market for ourselves or our clients. They shared successes and war stories so we could use their experience for our benefit. I cannot recommend this program highly enough, either taking a few classes as needed, or doing the entire certification. What a simple thing to add, either for your own business or to show on your resume that you are staying on the cutting edge of tech and marketing.
— Ginny Castleberry