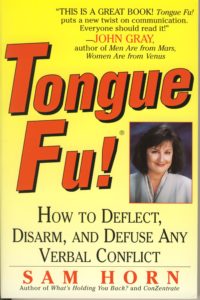 Tongue Fu!: Deal with Difficult People Without Becoming One Yourself
Sam Horn was one of the first to take on on the issue of bullying in her pivotal book, Tongue Fu!: How to Deflect, Disarm, and Defuse Any Verbal Conflict. Since that time, she has empowered people across the world to stand up to bullies. Now you can take advantage of her dynamic, inspiring and empowering ideas and strategies.
In this workshop on June 28, 1917, learn to handle challenging situations with confidence and what to say when you don't know what to say. Sam Horn shows how to stop arguments in their tracks, turn fault-finders into problem-solvers, persuade people to stop, listen and see your point of view and keep your cool (even when other people aren't).
Get specific suggestions on what to say and do in stressful situations you face on a daily basis. Featured in Executive Book Summaries which says Tongue Fu! is a "gold-mine for anyone who deals with the public." The Library Journal starred review describes Tongue Fu! as the mental martial art of verbal self-protection.