Spanish for Spelunkers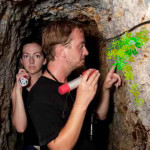 Mexico and South America boast some of the best caves for  exploring: the Grutas de Cacahuamilpa Caverns in Mexico, or Cuva de Las Manos, in Argentina, famous for hand paintings dating back to 7300 BC. But before you descend into the deepest cave in South America, Sima Pumaqucha in the Andes of Peru, it's wise to know a bit of Spanish. In this accelerated class, learn key phrases such as "¡La cuerda se rompe!" (The rope is broken!), "¡Mi lámpara se apagó!." (My lamp went out!), and "Qué es esta baba verde?" (What is this green slime?). Learn to add proper inflection so you can belt out with necessary urgency: "Estoy cayendo-o-o-o-o-o-o-o-o-o!" (I'm faaaaaaaaaalling!). In class you'll drill these and other critical phrases so you'll be able to blurt them quickly, when needed. Instructor Cog "Nate" Falsetto personally knows the value of vocabulary because of his own experience wandering in the darkness through a Venezuelan cave shouting "¡No puedo encontrar el éxito!"and "Dame tu ropa!" to the mystification of his guides.  Bring a rope.
Register here….
Backyard Fracking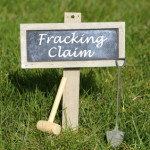 No green thumb? No problem! Your backyard has so much more potential than fancy flowers or a xeriscaped rock and cactus garden. Discover how many of the tools and chemicals you already have in your own garage and kitchen can be used to pull natural gas or oil from the ground beneath your home. Learn how to jerry-rig your power drill with your lawn mower and kitchen mixer to create the necessary bore and then experiment with various concoctions of sea salt, bleach, sand, and ammonia to find out what proportions will work best in your bore hole. Find out how to capture the liquid gold, once it's spewing from below. In addition to learning the mechanics of setting up your own fracking process, get tips on how to deal with irate neighbors without having to cut them in on your action. Get resources for what to do when seismic activity begins to crack the foundation of your home. Finally, learn how to hide your operation from nosy city inspectors who will want to see your permits. Rich Quick has been helping CFU students develop their entrepreneurial skills for over a decade.
Register here….
Carve Your Own Animal Santa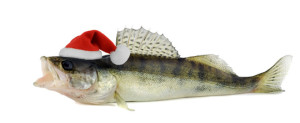 Create an unusual holiday decoration this year: A Santamal!   Carve a bear or a goose out of wood, dressed like Santa. Never cared before? No problem!  Learn the basics of woodcarving while creating something fun that can hang on your tree or decorate your mantle.  Discover: How to find your Santabear or Santagoose hidden in the block of wood, how to cut away the wood to set your animal free, and how to finish your animal so you can impress folks with your creative talents.  As an added bonus, carve a small ornament of Santa with a pine tree hat!  If you are just beginning or have a bit of experience, this class will give you the fundamentals of woodcarving.  Woody Threefingers has been carving for many years and has received numerous awards.
Register here….
Thumbnail Sketching

Quickly master the art of thumbnail sketching, a satisfying exercise used by artists for centuries to improve drafting skills and generate ideas for full-sized compositions. Topics covered: cuticle dos & don'ts; rendering hangnails; shading for ridges and bruises; when to improve on an ugly appendage. Class includes bonus practice on rendering manicures (reflections, highlights, and chipping) as well as how to realistically portray nail art. Gad Affetish, MFA in Studio Arts, makes a living in booking (fingerprints) for the Denver Police Department. By night, he loves to share his passionate attention and devotion to the human thumb by teaching students how to create their own journals of obsessive renderings. Bring a pencil, a 3 X 5″ sketchbook, and your thumb to share with the class.
Register here….
Can you tell which one of these classes is based on an actual class we've offered here at CFU?  Like CFU on Facebook and leave your comment.  We'll select from the correct answers and give the winner $25 off your next registration!!