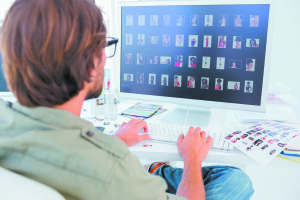 CFU's CompuSkills Computer Training Lab provides hands-on classes to give you the hottest Adobe design skills.  Small classes, the chance to repeat any class for free–these classes are the best deal in town!
4/9 & 4/10/15–Adobe InDesign CS6  Learn to use InDesign to create print and electronic collateral such as magazines, flyers, newsletters, catalogs, books, PDFs, web banners/ads, e-books, and more.
4/25–Edit, Archive, & Share Your Photos:  Adobe Lightroom 5 Hands-On Workshop    This Lightroom course for photograhpers will help you understand the basic operation of the software and modules. Topics include: setup; digital asset management; editing; bookmaking, printing and sharing; easy workflow.
4/27-28/15–Adobe Photoshop CS6    Master the skills and techniques you need in order to use Photoshop effectively in print, web, and e-learning projects.
4/30/15–Adobe Photoshop Elements 13    Elements is the perfect program for everyday people who want to organize, transform, create, and share their photo memories via their computer, the web, or their mobile devices.
5/21 & 5/22/15–Adobe Illustrator CS6   In this course, you will learn to create artwork using the most powerful tools for vector design in the graphic design industry. You'll be able to create logos, professional type effects, maps, banners, and impressive designs that showcase your artistic side.