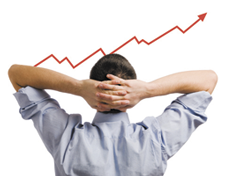 Investing classes are the way to get yourself educated so that you can minimize risk and maximize return before investing your money.
Investing classes at Colorado Free University will show you various wealth building strategies and help you consider the best way for you to invest. It's wise to be cautious, but important to take the leap, if you want to grow your assets. Investing classes can be a great way to get started.Take charge of your finances and your future by taking investment classes to learn what the experts say about how you might want to start growing your nest egg.
The $50 Wealth-Builder Find out how to buy blue-chip stocks for as little as $25 a month and pay no commission. Explore options in real estate investment for as little as $100. Learn how to receive eighteen percent or more from real estate-secured tax lien certificates. Consider the advantages of investing in gold and silver. Find out how to start a high-powered financial portfolio for $100. With investing techniques and some prudence, you can virtually guarantee yourself $1 million for your retirement.
Evaluating Mutual Funds and EFTs This class can help you make informed choices about fund selection based on your objectives and risk tolerance. We will look at how to screen for funds, what criteria to enter into a screener, and how to evaluate the results.
Market Crash Profits: Protect and Grow Your Money Whatever the Market Does
Ultra-Investing Using Options
The Four Pillars of Wealth: Make Your Money Work for You (more dates to come in our March catalog)
Colorado Free University also offers classes to help you be ready for retirement. Learn about social security, planning your retirement cash flow, minimizing taxes and more.
And if real estate is an area you'd like to explore, we offer real estate investing classes and property management classes.

---
About Colorado Free University
Colorado Free University is an adult continuing education center in Denver. We offer a wide menu of enrichment and skill-based classes for anyone over the age of 17. CFU is a relaxed learning environment and there are no entrance requirements, grades, or tests. Classes are taught by independent contractors who are experts in their fields and are motivated to give back to the community.
[Find out how to register and see CFU policies here]
[Learn about teaching at CFU here]