It's a seasonal treat here to host a whole array of fun Halloween tours & events especially for adults.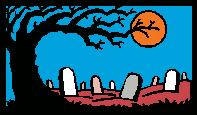 One of the most popular is historian Phil Goodstein's walking tours of haunted spots in the city. Learn all the paranormal happenings in Cheesman Park.  Or check out all the ghosts spooking around the Capitol area. Nobody beats Phil for a good spicy tale of politics, the paranormal, and the salacious in Denver history.
And if ghosts are your thing…come learn about the fascinating history and images of spirit photography in Ghosts Caught on Film on October 27. See many of most famous images from the Civil War era to now. Discuss explanations for the images, from hoaxes to the possible with paranormal researcher and author Jeff Danalek.
Finally, if you've got a sweet tooth–or you know someone who does–learn how to make some gross, ghoulish, and delicious treats that are actually good for you. Perfect for Halloween parties, Low Glycemic and Raw Halloween Trick & Treats on October 28 will prepare you to make yummy, fun treats that you don't have to feel guilty about.
Happy Halloween from all of us at CFU!