During the warmer months, CFU programs some terrific classes to get you outside, learning new skills.   We love our classrooms, but we also want you to take advantage of the outdoor opportunities for learning.
Beginning Golf at Emerald Greens–This 4-week course is taught by the ever-patient and highly skilled Tom White.  Learn to play on a un-intimidating 9-hole course on the Windsor Gardens campus.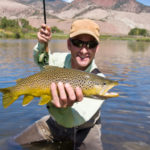 There is nothing more restorative than fly-fishing. In three sessions, all scheduled within one week, you can learn the basics so you can enjoy one of Colorado's favorite pastimes.  Fly-fishing from A to Z.
Larry Lane, is known as a "horse whisperer;" he gentles, trains, and rides horses without the use of intimidation or equipment like bits or spurs. Come up to the ranch and spend a relaxing Saturday learning how to ride and communicate with horses.  Intro to Natural Horsemanship.

Other fun activities that take advantage of the nicer weather include
Phil Goodstein's walking tours
.  Phil, Denver's historian, specializes in the seamy, ghostly and juicier aspects of Denver's past. See the variety of walking tours with Phil here.
We offer the
Yoga and Meditation Retreat
at Shoshoni all year, many folks prefer to head up to the center outside Boulder in the spring and summer. It's a perfect one-day escape.