Personal growth classes can support your ongoing development as a person. CFU offers many classes to open new doorways for you to self discovery, life-skills development, and spiritual growth. The following classes can be great ways to try out new practices and meet like-minded explorers.

Assertiveness for Everyone
(#3162) Discover a simple formula for expressing yourself that you can adapt to different situations. And, in a supportive atmosphere, fine-tune and practice your skills through role-play. Being able to stand up for yourself in a strong, but non-aggressive way is a critical part of your personal growth.
Take Control of Your Life: Set Healthy Boundaries
(#5549) Do you ever suffer from bad experiences caused by inappropriate boundaries? Leave this course with knowledge about boundaries, how to set them and what to do when others cross them. Being able to set protective boundaries is critical for personal growth.
Tongue Fu: Never Be Bullied Again
(#3327) Get fool-proof techniques to putting bullies in their place.
Keeping It Real: Talking Through the Tough Times
(#4524) Discover how you can build connection with others, while remaining true to yourself. Find out how you can enhance empathy and mutual understanding in order to deepen your connections and find satisfying solutions to interpersonal differences.
Align Your Chakras: An Experiential Introduction
(#5505) Learn about the seven-chakra system and practice exercises and enlightening meditations that can help you recognize and release chakra blockages, bring awareness, and facilitate transformation.
The Key to Authentic Connection: Tapping Emotional Intelligence
(#4528) Explore how to enrich your interactions, both casual and intimate. The first step is tuning in to the signals from within your body. Once you recognize emotional content in yourself, you can better appreciate and respond to the emotions of others. By reflecting the emotional content that you pick up on in others, you will enrich your connections.
A New Perspective on How to Manage and Resolve Grief
(#4506) Discover an effective coping strategy to manage your pain and the symptoms of grief. Explore how it is possible to cherish your memories, hold on to the meaning the lost one had for you, and still go forward into life in a more heart-centered and purposeful way.
A Taste of Tarot
(#5217) Find out what the cards can tell you to support your personal growth and life journey.
Become Your Own Life Coach
(#1953) In this workshop learn three common ways that your mind blocks your happiness and success and, most importantly, find out how to transcend these blocks using one simple strategy that you can use for a lifetime. Fell the power when you rule the mind, so that it can't rule you!
Change Your Brain to Change Your Life
(#5105) Learn the tools of Neurosculpting®, a modality of meditation and brain training that helps you rewrite old thinking patterns, heal from stress and trauma, lessen emotional reactivity, navigate life changes, and maximize your potential. In addition to learning the concepts of Neurosculpting®, you will learn three types of meditation to calm your system, release negative thoughts and emotions, and lock in more positive associations.
Create the Life You Want After Divorce or Breakup
(#4509) Learn why it's normal to repeat the same patterns in your romantic relationships, and how you can begin to change them for the better. Discover how dating can be a way to learn how you can be "The One" for yourself, so that you can be healthier and attract healthier people.
Discover Your Talents: Develop Your Strengths
(#3226) This class makes use of the Clifton
StrengthsFinder® assessment to help you identify your essential competencies so that you can maximize your efforts in work or personal endeavors.
Mindsight: The Key to Well-Being
(#5562L) With mindsight, an aspect of mindfulness, comes the ability to create space between feelings and actions so we can make conscious choices rather than reacting reflexively to events.
Have them at Hello: Making a Million Dollar Impression
(#4529) Learn how to master introductions, initiate and continue conversations, and help people to like and remember you.
Intro to EFT: A Powerful Tool Anyone Can Use
(#4619) Emotional Freedom Technique (EFT) is a process for releasing the internal, subconscious blocks that keep you from achieving personal and professional goals.
Learn the Secrets to Trust Your Intuition
(#4503) Get practical and immediately usable tools to help you make decisions that are more aligned with your strengths and passions.
Women Over 50: Better than Ever!
(#3166) This course is designed to educate and empower women at midlife to rediscover who and what they truly want to be and reclaim their right to pursue their dreams. Take this opportunity to reconnect with what inspires you and articulate a vision and a concrete plan for what you want in the next chapter of your life.
Recipe for Genius: Practical and Effective Tools for Creating a Thriving Artistic Experience
(#8904)
Consider the possibility that art and innovation come through you rather than from you. Originally designed to support those in the performing arts, this workshop has been broadened to become a power tool for everyone desiring to explore and develop their creative genius.
Manifest with Zest: Transform Your Life!
(#3224) This energy-filled workshop will help you create and call into existence your biggest desires. During the course of the workshop, you will understand the power behind set4 ting intentions to create shifts, engage in hands on exercises that ground in these concepts, learn the secrets to setting powerful intentions, and develop a clear plan of action for implementing immediately!
The Enneagram: A Tour of the Types
(#5475) The Enneagram is a helpful tool for professional growth and an engaging and useful tool for discovering our spiritual nature, the truth of who we are, and our connection to others. This class is for anyone new to the Enneagram. The self-insight you get will be a boon to your own personal growth.
Become Your Own Best Friend: Daily Strategies for Living a Positive Life
(#2589) This course delves into the science of positive psychology to give you practical strategies you can use each day to increase positive well-being on a short- and long-term basis.
The Upside of Stress: Applying the Power of Positive Psychology
(#2588) Research shows that stress can be good for you when you view it correctly and cope with it in a positive way. In this class, explore groundbreaking research at the forefront of the positive psychology field. Come away with strategies to change your mindset, and turn stress from a noxious experience into an opportunity for more positive well-being. Managing stress is key to your personal growth.
Vibe Tune-Up: Spinning Fear into Love and Living a Thriving Life
(#8903) Peter J. Hughes will give you an overview of principles of the Law of Attraction and lead you through a conversation and experiences that can enable you to transform fear into love and to open yourself to intuitive guidance.
Women and Sex: A New Perspective on Intimacy for Women
(#4231) For some women in committed relationships, sex can become a burden. In this class, in a safe setting with women only, explore how sex is a window into yourself. Discover how understanding your sexual experience can be a way to get to know who you are and to heal your emotional wounds.
Learn about the life benefits of Reiki with
Intro to Reik
i (#5209N). Explore how you can support the healing and well-being of yourself, loved ones, or clients.
Meditation Explorer
(#1934) In class, experience five different easy and fun meditative techniques, both active and passive, that you can use in your daily life to harmonize and strengthen mind, body and spirit.
The True Simplicity of Meditation
(#5327) Novices can learn how to meditate using simple, straightforward, and easy-to-understand techniques in this two-session class..
Unexpected Qualities to Support Spiritual Development
(#5310) Explore the three major body centers, head, heart, and belly, to see how they can thwart or support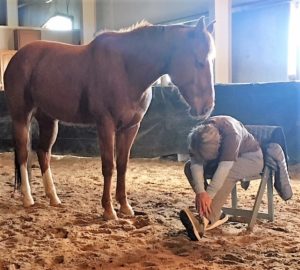 spiritual growth.
Chair Yoga in the Presence of Horses
(#2321) Because they are prey animals, horses have a keen capacity to sense energy. They mirror what we humans bring to our communication and interactions. This unique class allows you to experience the power of being in the presence of horses, without actually riding a horse.
Yoga & Meditation Day Retreat: An All-Levels Saturday Workshop at Shoshoni
(#2480) Immerse yourself in spiritual energy during a daylong retreat at Shoshoni Yoga Retreat Center in the mountains above Boulder. Begin with a relaxing hatha yoga class followed by a gourmet vegetarian lunch. The afternoon will include an introduction to meditation, followed by refreshments and discussion.
Yoga of the Mind: An Intro to Meditation and Energy Work
(#2482) Discover an active meditation technique that can help you change how you interact with others. If you often worry about other people's concerns long after interacting with them, or feel exhausted by all the people you encounter every day, this form of meditation can bring relief. Many people agree that meditation practices are key to personal growth.