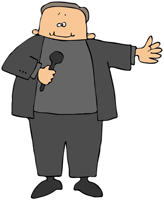 Get more out of your life, work, and relationships by improving your communication skills.
Many people suffer from nerves when called upon to speak in public. There are definite tips and tricks you can learn to improve your confidence and delivery.  Whether for a special wedding toast, a job pitch, or a lecture, you can improve your public speaking with classes like these:
Own Any Occasion: Creating & Delivering a Confident Speech
Get in Bed with Your Audience: Public Speaking Made Easy
Exceptional Women Speakers: Using Words, Voice and Body to Project Your Message
Making a great first impression is one of the most important social skills to learn. Try Debra Fine's Master the Fine Art of Small Talk or Gary Michael's Fantastic First Impressions.
Body language plays a great role in how people come across. Learn more about what you project, and how to connect with others based on what they project. Two fascinating classes explore these two sides:
Communication from Head to Toe: the Art of Body Language
The Art & Science of Reading People: An NLP Perspective
How you communicate influences your ability to achieve and get what you deserve in life. Try Tasha Eurich's Bankable Leadership for great information on becoming an effective leader in your work or community.
The long-running class, Civilized Assertiveness for Women, has been helping women ask for what they want and deserve in clear, non-pushy ways for over a decade. Students love this class.
David Steele's The Key to Intimacy: Compassionate Communication is a thoughtful and potentially transformative class based on 30+ years of his work teaching  interpersonal communication skills.
Lastly, have some fun communicating and maybe even find a new career. Try Storytelling with vocal coach and voice actor Bill Smith. He even offers a "scary" storytelling version around Halloween.
Browse all the communication and public speaking classes here.