We offer terrific art classes in Denver at CFU. There is something for everyone! You can dip your toe into a variety of media. Classes are small so that teachers can give lots of individual attention. Our art classes are low key and noncompetitive–just a chance to explore your creativity without stress.
See the art classes that we offer and click for dates and times.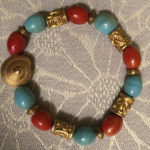 Let's Bead It: Basic Beaded Jewelry & Repair (#1520)–Learn how to use the tools, select findings, and use crimp beads and head pins. Get design tips and learn how to finish your pieces neatly.
Abstract Painting for Beginners (#1450)–Create textured and layered abstract art.
Experience the Wonder of Indian Folk Art with Gond Painting (#1495)–The Gond tribe in India use vivid colors to create tributes to nature.
Beautiful Block Printing (#1235)–Using one of the oldest print-making methods you will draw your own design and hand carve it on easy-to-carve rubber blocks. Print first on paper and then on a cotton tote bag.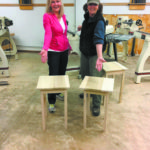 Crafting Furniture: Woodworking Basics (#1559)–Learn to use woodworking equipment and make a finished piece of furniture.
Color & Flow: Beginning Watercolor Workshop (#1314)–Move from relaxing exercises that painlessly incorporate skill development to basic layering in floral patterns through city sketching and pen and ink, simple landscape composition, and end by creating an impressionist pet portrait.
No Fear Acrylics (#1456)–Learn to mix colors, apply paint in various consistencies, and use specific brushes or tools to create desired effects.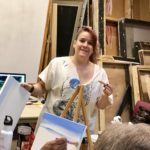 Basic Drawing: Drawing as Seeing (#1492)–Learn to see with the eyes of an artist and begin to render 3-dimensional objects onto the flat page.
Beginning Colored Pencil Techniques (#1562)–Get going drawing and shading with color.
Mixed-Media Canvas: The Art of Layering (#1202)–Use a variety of art materials, mediums, and techniques, including paint, paper and stencils, to create a layered effect.
Basic Sewing Made Fun & Easy (#1447)–This is a 6-week course to support you to master machine sewing.
Balloon Twisting: Be the Life of the Party (#3003)–Get started on the basic of balloon twisting so you can decorate your friends with balloon hats, entertain at kids' parties, create quick and inexpensive costumes, or even raise money for your favorite charity.