Get a crash course on Denver history–and a fun, off-beat crash course at that!–in Phil Goodstein's Everything You Ever Wanted to Know About Denver course.
Phil is a noted Denver historian and prolific author. He's particularly well-known for his walking tours around Denver historic Denver neighborhoods.
In the winter, Phil always hosts one of his fireside classes on Denver history in the comfort of his warm living room. If you've not ever taken one of Phil's classes, you are in for a treat. Nobody knows all the mysteries, scandals, successes, secrets, and fascinating FAQs that make up Denver history than Phil Goodstein.
Sign up today for a this fun four-week Denver history class.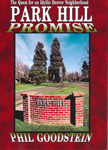 And check your local bookstore (Tattered Cover or Park Hill Bookstore) for Phil's latest book–Park Hill Promise, all about the Park Hill neighborhood.