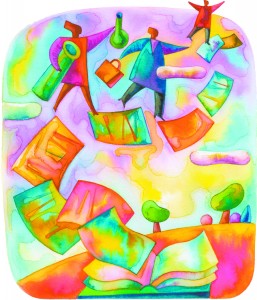 What better way to explore how tell your story effectively than with writing classes in Denver.  All sorts of people need to know how to tell a story, for creative purposes (think creative writing), or business purposes (think marketing and networking), or socially (think sharing and making connections). Writing classes at Colorado Free University are relaxed, supportive and practical.
If you've been doing some writing or are thinking about getting more serious about writing, Dipping Your Toe into Creative Writing is a great, one-shot class.  Rick Gustafson shares "the things he wished he'd known about writing" early in his career. Rick has an MLS from the University of Denver and has won several writing awards for fiction including the E.M Koeppel Short Fiction prize in 2014. He is a weekly contributor to Colorado Community Media and works full time as a writer.
Beginning Creative Writing can really help you get into structure of the process by learning how to write from the beginning to the middle to the end. Instructor Eric Erickson earned an MA in English and creative writing and has published fiction in several literary journals. He is currently nearing the completion of his first novel. In this 4-week workshop you'll get tons of information and feedback on your writing.
If you have a nonfiction project, such as an article, book, report, or dissertation, Writing Nonfiction: Get Your Project Done! is your class.  Topics include evaluation of the idea, assessment of your competition, getting the first draft done quickly, polishing it into a saleable product, making the sale to a publisher or agent, getting a good contract, and more.   Instructor Otti Seiden has published dozens of books using this technique.  This class will help you publish, not perish! One of the most helpful writing classes you'll find.
For those of you who have an idea for a children's book, but don't know how to go about it, this class is your ticket.  In the hands-on workshop, Designing and Illustrating Your Children's Book you will learn how to divide your story into the proper format, identify key scenes to illustrate, create memorable characters, and incorporate text with your illustrations. Students will work on thumbnails, character designs, and the composition of a two-page spread in class. Anna-Maria Crum has illustrated over 50 children's books and has served on the board for RMC-SCWBI and PBAA. She also taught illustration, graphic design, and typography for fourteen years at ACC. Class is great for novices as well as accomplished artists.
One of the hottest genres today is Young Adult Fiction.  Get a solid overview and tips on creating your story in Exploring the World of Young Adult Fiction: An Intro for Writers.  Catlin Berve has an MFA in creative writing and poetics from Naropa University and wrote her critical thesis on "What Makes a Young Adult Novel." She is the owner of Ignited Ink Writing, LLC, where she freelance and contract writes and edits. Her work has been published in several literary magazines, and she has written three novels, two YA and one adult.
Writing for the Web is one of the best writing classes for anyone promoting a business online.  learn how to apply basic search engine optimization (SEO) to your writing so that your pages will climb to the top of Google and other search engines. You'll learn how to perform in-depth keyword research, how to plan and organize a page, how to write for SEO, how to line-edit for SEO, and how to track your SEO progress. This class is ideal for freelance writers and marketing consultants who would like to add "SEO writing" to their skill set and resume, as well as small business owners who would like to improve the performance of their own websites.Jennifer Croft has more than 30 years' marketing experience and has specialized in SEO for the past eight years. She has written copy for more than 300 websites.
The Art of Writing a Blog: Blogging from the Heart is a writing class for bloggers.  This workshop isn't about the SEO of blogging or the strategies for business marketing, it's about writing from your heart, whatever your purpose may be. Learn what makes a readable blog and strategies for structuring your writing. Reflect on what you want to say, the story you'll tell, and what will make your blog unique. Read examples of other blogs and practice writing in a variety of voices. Andrew Krehbiel is a blog coach at Personable Media, where he helps businesses and individuals share their heart through their blog. He's had his own blog for almost three years and is also a freelance writer and blogger.
In Make Money Writing and Selling Magazine and Blog Articles discover how to break into the media world as a paid freelance writer. Learn where to find great article ideas, how to refine them, how to pitch (query) your article idea to an interested editor, and how to write the final article.  Jules Marie has a BS in marketing and holds certificates in entrepreneurial studies, digital marketing, and social media management. She is the founder of 33 Words PR and is a journalist and publicist who has had hundreds of magazine articles published.
If you like to travel and to write, you'll want to take How to Be a successful Travel Writer, Blogger, Video Journalist the Easy Way. Learn how to obtain assignments, conduct interviews, work with brands, and take photos that have the WOW factor. Ron Stern is the Denver city editor for The Daily Meal and a travel columnist for several newspapers and online sites.
Get That Job! Attention-Getting Resumes & Outstanding Interviews will help you in your job search.  Chris Murphy, a manager with over 20 years of hiring experience, shares his insights on how to get in the door with a résumé that stands apart from the rest, and then how to nail the interview. Discuss examples of résumés that made the cut, get the keys to a strong interview, and make sure you know the "dos and don'ts" of searching for a job.
If you think you need a little boost with your grammar, Grammar for Grown-ups will help.  Lisa Napell Dicksteen has been a writer and editor for over 25 years. Her writing has appeared in The New York Times, Brides, and numerous other publications. She has a master's degree in teaching secondary English and years of experience working with students of all ages. Banish embarrassing errors forever, and learn to present yourself in the best possible way in written communication.
So, whether you're writing for business or for pleasure, you will find the help you need in the writing classes at Colorado Free University in Denver.  Enroll online or call (303) 399-0093 ext 0.  See all the CFU writing classes here.