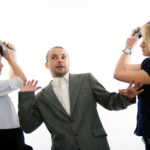 Explore becoming a mediator in this two-hour class. Exploring Mediation as a Career. Sessions are coming up on January 16, March 16, and April 13, 2019.
Do you like to work with people, solve problems, and contribute to your community? Perhaps a career in conflict resolution is for you! Come get answers to questions like: How can I make a living in mediation? How do I get started?
Mediation training can be a terrific new career path. Opportunities are increasing for trained mediators in many business and legal settings.
Instructors are trainers from Phoenix Strategies, Inc.

Phoenix Strategies, Inc. is a dispute resolution and training business that strives to bring peace from within for people who are in conflict.
The Collaborative, Facilitative and Interest-Based Model™ (CFI) is the heart of Phoenix Strategies, Inc.'s services and training. Not only is this model used to manage conflict, but it can be used in our daily, personal and professional activities. Whether communicating with family, friends or co-workers or negotiating to meet goals, this model can bring about mutually satisfying results for those directly involved. Participants will receive a certificate of completion. CLE credits are available for attorney (40 General and 7 Ethics). Phoenix Strategies, Inc. (PSI) is a dispute resolution business incorporated in 1997 to provide comprehensive, relational and human development training and services. PSI delivers a full array of conflict management services that includes: mediation, conflict coaching, facilitation and conflict management systems design. PSI holds the US Patent and Trademark Office mark of Collaborative Mediator® used for mediator certification for those who demonstrate knowledge and skills in the Collaborative, Facilitative, Interest-Based Model. Additionally, PSI provides mediator internships. PSI mediators have delivered services for cases originating within federal agencies as EEOC, USPS, BLM, TSA, school districts, city and county courts, non-profits and for-profit entities. PSI was founded by Monica Lichetenberger. Monica has holds a Masters in Management and the following certifications: National Association of Conflict Resolution Advanced Workplace Practitioner, Transformative Mediator™, Collaborative Mediator®, Conflict Dynamic Profile™, and Mediators Association of Colorado Professional Mediator. Her partner, Jan Rodgers, holds a Masters in Conflict Management and Dispute Resolution from Southern Methodist University in Dallas and is a Certified Collaborative Mediator®. She is a conflict specialist, trainer, coach and mediator at PSI. PSI has a number of qualified trainers who work with them to provide trainings.
Learn about the Basic Mediation Training also offered by Phoenix Strategies. The next training runs 4/29-5/3/19.
________________________________________________________
About Colorado Free University
Colorado Free University is an adult continuing education center in Denver. We offer a wide menu of enrichment and skill-based classes for anyone over the age of 17. CFU is a relaxed learning environment and there are no entrance requirements, grades, or tests. Classes are taught by independent contractors who are experts in their fields and are motivated to give back to the community.
[Find out how to register and see CFU policies here]
[Learn about teaching at CFU here]