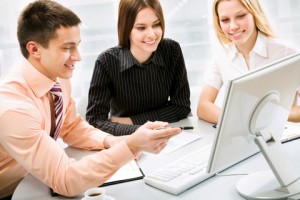 Get your  MS Office skills up-to-date by joining one of CompuSkills' new Microsoft Office 2013 training classes.
For in-depth training in MS Excel 2013, MS Word 2013, MS Access 2013, MS PowerPoint 2013 and MS Publisher2013, we offer our comprehensive 6-hour classes. Devoted to one application, these courses are great options if you are new to an application or are currently using an older version of MS Office such as MS Office 2003.
If you are thinking of transitioning to Office 2013 from  Office 2007 or Office 2010, CompuSkills offers a special class to update the specific skills you'll need to get up to speed quickly! Microsoft Office 2013: Transition from Office 2007/2010 explores a variety of Office 2013 enhancements that will build on the knowledge and skills you've already acquired. Learn the latest updates to Excel, Word, PowerPoint, Outlook and Access all in one session and improve the way you manage, organize, present, and distribute your company's data and information.
In all of our MS Office 2013 classes, students will work hands-on at a PC provided to them, and will also receive valuable and updated training materials in both print and electronic forms.
Browse all CompuSkills Computer Training classes here…..