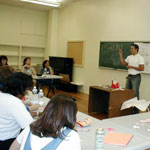 Look no further for great Spanish Classes in Denver with Immersion Weekend!
Spanish Immersion Weekend is an excellent way to improve your Spanish language skills. The Spanish workshops offer a variety of lessons and activities that are challenging, but not overwhelming. We end with a selection of cultural activities that are both fun and educational.
CFU Spanish  instructors come from all parts of the Spanish-speaking world, each with their own teaching style and perspective on the language. Join them and others who share your passion for the Spanish language.
The next Spanish Immersion weekend starts October 15.
View the schedule & sign up today!