Sylvia at the John Hand Theater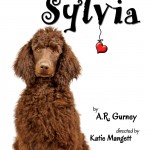 Have you seen a play at the John Hand Theater?  Did you know that CFU has a fabulous little theater nestled within?
Read the review:
SYLVIA by A.R. Gurney playing at the John Hand Theater through June 29th.
Sylvia, a delightful summer romp, is a three-way love story: man, woman, and dog, with the dog being the central character. When Greg, having trouble with his job, is in the park one day, he finds a stray dog, Sylvia, and brings her home, much to his wife's dismay. Kate, an English teacher busily wanting to grade papers and enjoy their newly empty nest, needs no dogs or any complications in her life right now, thank you.
Sylvia, then, is an albatross to her marriage and lifestyle and as Greg's affection and time stray more to Sylvia, Kate falls apart. It's like another woman has invaded her family nest—and one that her husband seems to like more than her, flaunting  his affection for this other woman right in front of her.
Gurney's 1995 play, Sylvia,  rises and falls with the woman who plays her, and in this John Hand Theatre production, Sara Metz is delicious as the pathetic yet wonderful, horny but funny, loose dog with a great new owner that she adores. The feeling is mutual. Metz wags her tail, flounces her ears, screams after Bowzer, the neighborhood hunk, checks her pee-mail on benches, and thoroughly delights as a young woman, I mean dog, on the prowl. A lesser Sylvia takes the production down, but in this Firehouse Theater Company production, she growls and howls her way to a fine performance.
Greg, Andy Anderson, is a bit lost as the wayward husband, but Anderson's plight at the end, when after 11 years and Sylvia is gone, is touching. His "everyman" floundering at his job, trying to bully his wife into not going to England where she could teach for six months, rings true. The men in the audience on opening night appreciated the husband's plight.
Molly Killeran who plays the put-upon wife has many fine Shakespearian moments where she quotes the Bard with perfect timing to her own situation. Her "every woman" is tender and yet biting as she refers to this intruder in her marriage as Saliva. In the end, she has to give in to her husband's wishes and the charm of the delightful Sylvia.
An androgenous character played beautifully by Emma Messenger about steals the show with her male/female roles and adds the levity and an "outsider" view to her performance. Her insights into Sylvia' s behavior in the park as tough guy Tom help Greg to see that his dog is just a typical dog that needs spaying–a suggestion that Greg takes much to Sylvia's dismay.
A.R. Gurney, who has written more than 46 plays, novels, musicals, has his pulse on the American Theater and in this 1995 work creates a "now" scenario that will ring true with every one—especially married couples. And that Metz's portrayal of this legendary dog is superb, makes Sylvia a fine evening of summer theater right here in Lowry.
Tickets are only $18 for seniors and $20 for adults—call 303-562-3232 for tickets. Friday and Saturday evenings at 7:30 p.m. and Sunday 6/9 and 6/23 at 2. Support our local theater especially when  the productions are so good. The theater is tough to find—Google the location. Don't miss this one!"
–Sally Kurtzman, The Lowry News
visit www.firehousetheatercompany.com for more information or to purchase tickets.