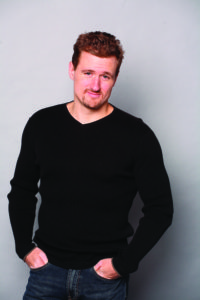 Have you ever been embarrassed by forgetting someone's name? Or missed a professional opportunity because you forgot an appointment? Everyone forgets sometimes, but you can drastically improve your memory skills by attending this special event with Dave Farrow.
Dave Farrow is the current Guinness world record holder for greatest memory. Join him on September 7, 2016 while he shares The Keys to a Powerful Memory: The Farrow Method of Memory Improvement and Speed Learning.
In this fun and fascinating class, you will discover the secret to memorizing people's names, even hundreds at a time, and practice with others in the class. The techniques you learn will help you memorize languages, school work, speeches with absolute ease and confidence.
Dave has performed incredible feats of recall to earn him the his title of person with world's greatest memory. He successfully recalled every card in exact order of 59 randomly shuffled decks of cards (3,068 cards total). Dave has been featured on the Discovery Channel, CNN, CBS, and Fox News.
Dave's techniques work and you'll be the proof! Sign up today.