Steve Bass teaches classes on canning and pickling here at CFU.  He won two blue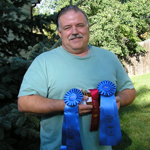 ribbons at the first annual Denver County Fair, one for his Sweet Hot Pickles and another for his Zesty Peach Barbeque Sauce.  He also won a red ribbon for his Green Tomato Relish.  A week later, Steve won a blue ribbon at the Adams County Fair for his Dill Pickled Onion Rings.
You can learn from the master and register for Jams, Jellies and Preserves: Learn to Can on 9/10, Gourmet Jams & Jellies on 8/21, or The Joy of Pickling on 8/13.