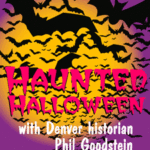 Halloween wouldn't be the same with out the ghost tours conducted by Phil Goodstein. Phil is Denver's historian who has a special affinity for the weird, spooky and seamy aspects of Denver. See a side of Denver that you've never seen, discover the haunted spots, and learn a little history at the same time.
See all the walking tours that Phil will be conducting this month.
Organize a group of your friends to do something very different to get in the Halloween spirit or come on your own and meet new friends. You can register at Colorado Free University online or over the phone at (303) 399-0093 ext 0. Ghost Walk On Capitol Hill is offered on 10/27, 10/28 and 10/31.