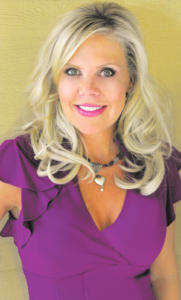 Join noted local psychic Karen Storsteen for this fascinating July 23, 2017, class on developing intuitive skills. First, Karen will discuss the intuitive spectrum to help you figure out where you are on the path, and she'll share with you some of the science that explains psychic ability and mediumship. She'll also share proven methods that you can use to heighten your intuition.
Find out how to extinguish stress, which diminishes intuition, and shift to neurological power and clarity. Experience your own intuition at work to solve a problem and make a decision.
After the talk, Karen will give mini psychic readings to class participants as a bonus.
Karen Storsteen, M.S., M.A., has worked in the fields of human and organizational development for over twenty-five years and has educated and counseled thousands to reach their greatest potential. Known for her "supersensory and uncanny" psychic and medium gifts, Karen blends this talent with proven psychological methods to help people gain instant insight and awareness in love, work, and life. She has been featured on ABC, NBC, CBS, contributed to Inc. and TED Magazine, and has been a regular on morning radio and several FM/AM radio stations.
Register for Intuitive Development & Spirit Communication with Karen Storsteen on July 23, 2017 now!